Welcome to our first issue of 2023!
After the festive season, when it's grey and cold outside, it's easy to feel like hibernating, much like many plants. But in this issue, we look at how to bring your January to life with colourful gardens and fun activities.
You'll be amazed just how much a winter garden makeover can change how you feel, so read on for more details.
And don't forget to do the RSPB Big Garden Birdwatch – perhaps have a cheeky Hot Toddy while you do it – see our Bushy Beverage below for a recipe.
Happy New Year and enjoy your month!
Chris & all the Bushy team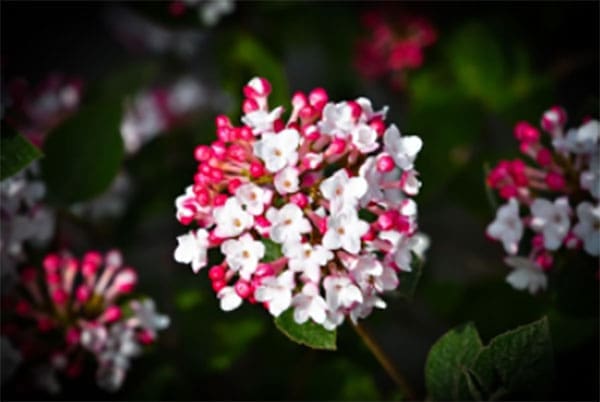 Viburnum to the rescue!
It always feels more special to see plants flowering outside in winter doesn't it? Viburnum tinus is an evergreen shrub and produces lovely small, white/pink blooms from late winter into spring – a very welcome sight!
Wonderful Winter Garden
Who says you can't have a spectacular garden in the winter! Winter gardens and borders can be planted to provide a fabulous display of flowers and colourful berries. Stems in reds, yellows and oranges will add interest too, as will ornamental barks in burnt coppers and ambers with varied patterns and shapes.
For fragrance consider viburnum, Daphne, mahonia, witchhazel, honeysuckle and sarcococca., For colour and structure think of winter aconites, snowdrops, hellebores, dogwoods, willow, Acer trees, evergreen hedges. Chat to us about your ideas and for further inspiration visit The Winter Garden at Sir Harold Hillier Gardens near Romsey, Hants, one the largest of its kind in Europe.
The best way to see red
21st January is Red Squirrel Appreciation Day! If you love squirrels but wish you could see the red variety, head down to the British Wildlife Centre near Godstone, Surrey. It's one of the largest breeders of red squirrels in the UK.
Get ready for the RSPB Big Garden Birdwatch
Don't forget to register and take part in this year's RSPB Big Garden Birdwatch, running from 27 – 29 January. Encourage the birds with a few tasty avian snacks – and some human treats for yourself as well of course!
Bushy Beverage
A Hot Toddy with Charred Oranges on a crisp January evening will put a glow on your face and a spring in your step! Try this twist from Country Living on the traditional lemon recipe with bourbon, oranges and cinnamon – mmmm!