Fresh year, fresh start!
We at Bushy hope you managed to enjoy the festive season despite the uncertainties posed by Covid-19. We're looking forward to making 2022 a great year for your gardens, so let us know if you'd like to discuss ideas. We're starting here with some thoughts on eco-friendly landscaping and buying choices.
Do you do the Big Garden Birdwatch survey in January? We look forward to it, so we've included details below – hope you can join in too. Fingers crossed we'll all be getting out and about more this year, so we've also written about having a stroll at the National Trust gardens at Nymans.
Whatever you do this month, do more of what you enjoy!
Chris & all the Bushy team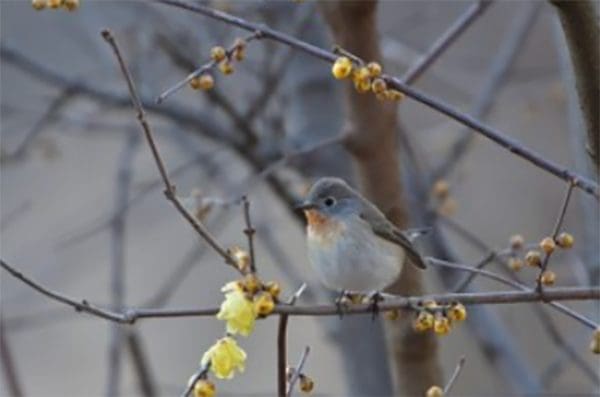 Sweeten up January!
For something different in your garden, chimonanthus praecox (Wintersweet) will provide scented flowers from around December through to March. Some like to use them in teas and potpourri too.
Fresh plans for your outdoor space
In 2022 embrace eco-friendly landscaping. You could introduce more biodiversity by including a greater variety of plants. Talk to us about items like green compost, wildflower turf, sedum roofs, log stacks for insects and bee houses. And reduce paving by perhaps having more lawn, new flower beds or a pond. More ideas from Gardeners' World are here.
Reduce the plastic
Also, consider replacing plastic with biodegradable and bio-based materials – such as buying terracotta containers, which are attractive and long-lasting. Or try bamboo or Vipots, made of rice and grain hulls, both of which are lighter to carry. And green walls are another possibility, where recycled plastic is used for the unit to hold the plants.
Nymans for new year
Go for a new adventure – out to Nymans near Haywards Heath, West Sussex, on a winter wellbeing walk. The Nymans' Winter Walk showcases all the plants that are at their most striking at this time of year, with bright berries and reviving scents.
Take part in the Big Garden Birdwatch
The RSPB runs this bird survey annually to help it monitor their welfare. You can provide support – you simply count the birds you see in your garden, from your balcony or in your local park for one hour between 28 and 30 January 2022. More details here.
Bushy Beverage
Go the extra mile for 'Dry January' and try non-alcoholic treats with added health and wellness benefits. For example, Real Kombucha provides the stomach-health benefits of kombucha in sparkling or full-bodied white wine. And Impossibrew Co alcohol-free beer has herbs and botanicals with 'mood-enhancing' benefits. Could be a new you?!
Until next time!
We talked earlier about planting beds instead of having paving. If you'd like to learn more about our services, including planting, take a look at our website here.