A pop of colour, a hint of magic …
Autumn is wonderful for providing rich colours but if you're feeling that your garden isn't as vibrant as it could be – or that you want something different, we've got some great ideas for next year!
Have you, for instance, ever considered a bit (or a lot) of Alpine landscaping? Done the right way, it can make your garden a talking point for all the right reasons! Read more below.
Meanwhile, here at Bushy we're busy doing autumnal jobs including, to use that lovely phrase 'putting the garden to bed'. That's leaf clearing, mulching, dead heading, lifting and dividing perennials, bulb planting and lawn care. It looks and feels so much better when it's done and paves the way for rejuvenation in the spring.
We hope you enjoy the 'season of mists and mellow fruitfulness' as Keats described – we have some ideas on that too below. Happy reading!
Chris & all the Bushy team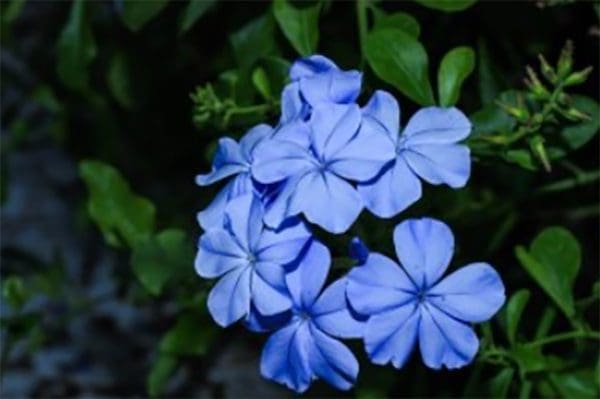 Colour burst for October
Leadwort (ceratostigma plumbaginoides) provides vibrant blue flowers, with leaves that turn purple or red in the autumn – something to cheer up your borders and beds perhaps?
A bit of Alpine magic
As long as you keep them well drained, Alpine (aka rock garden) plants are hardy and colourful – and will make your garden different to other people's. You can landscape them to suit your space. For example I've seen a circular structure sunken into the lawn with terraces of alpine plants and a central area like an amphitheatre design. You could then decorate the centre for parties, install a BBQ/firepit and people can even use the steps to sit on.
Choose dwarf irises, houseleeks, slipper flowers and other brightly coloured blooms with interesting textures. For more ideas, you could visit RHS Wisley to see their Alpine garden.
Ignite your spark at Polesden Lacey!
Who needs Halloween ghouls in the dark? At Polesden Lacey near Dorking you can glimpse fleeting fairies, spot fiery fish and dragons ablaze. Enjoy their illuminations and woodland wildlife sculpted in willow as you stroll along a trail lit by lanterns. It's all set to music and takes place between 22 October – 7 November.
Bushy Beverage
If you enjoy trying different varieties of wines and fancy tying it in with a day out, why not head to Bluebell Vineyard Estates near Ashdown Forest in East Sussex? They run tours and woodland and vineyard trails, as well as producing some tasty tipple. They're close to the Bluebell Steam Railway too!
Until next time!
Take a look at some of our projects. It will give you further ideas of what we do – but this comes with a note: we do something different for every client as no one is the same and all our work is bespoke – just like nature itself!